So Cal Historyland
Phil Brigandi sadly passed away on 12/12/2019. For information on his life and tributes in his honor, please click here. If you have any questions, please send them in an email to orangecountyhistory@gmail.com. Please allow up to 72 hours for a response.
This website will continue to be maintained in his honor.
Hello there . . .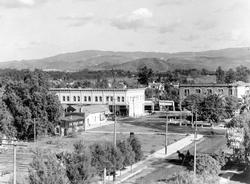 I've been researching and writing local history since 1975. I mostly write about the people and places that interest me here in Southern California.
This website is my way to share a little of what I've learned with a wider audience. That's what a historian does after all. You gather up material, then you share it with people.
For a growing collection of stories from the history of Orange County, be sure to check out my new website:
https://www.ochistoryland.com/
Some of the stories here are just excerpts from my research, taken from the books and articles I've already published. Others come from stories I still hope to publish one of these days. In the future, I plan to add more stories.
I hope you'll enjoy these examples from my work. If you'd like to quote from them, it might be nice to ask first.
Phil Brigandi
You'll find links up above to these pages:
* The Anza-Borrego Desert -- a Southern California wilderness
* Ramona -- History and Myth in Southern California
* The Riverside / San Diego County Backcountry
* Temecula -- at the crossroads of history
* Hemet & San Jacinto
* Southern California's Indians
* Lost Valley -- my backcountry home
* Scouting and the Order of the Arrow
* About Me
"It's disappointing to become a leading authority in the field when you still have so much you want to learn." -- Garrison Keillor